Top 5 Antivirus for Android
In the age of technology, it has become challenging for one to use it blindly. In the past, surfing the internet was completely safe, but as technology grew, and more people had access to the internet, they used it for their own gain. This behavior could potentially harm you or anyone else. Also, those who are easily baited by fake downloads such as downloading this program to speed up your Android phone should be aware that these programs are nothing but a scam. They're made to destroy your hardware nothing more.
That is why we made a list of top 5 Anti-Virus programs that you must download on your Android phone if you are afraid of getting any viruses these days. These programs are complete, but you can always upgrade to the premium version. But personally, I'd say the standard version is more than enough to cover your needs if you ask me.
Malwarebytes
After we have showcased this antivirus in the previous Top 5 Antivirus for PC, we couldn't recommend enough this on Android phones. Malwarebytes is free to download on the Google Play store. The aforementioned offers certain features such as protecting your phones from malicious viruses and blocking any threat that may harm your hardware when surfing the internet. In addition, the application offers a free cleaner similar to the likes of CCleaner which cleans your phone. Lastly, the application has two versions: Free and Premium. I think the free version is more than enough to cover your needs. However, if you're interested, the premium version costs 1,99USD a month and 11,99USD per year. If there's a free antivirus for Android to recommend, Malwarebytes is one of them.
APUS Security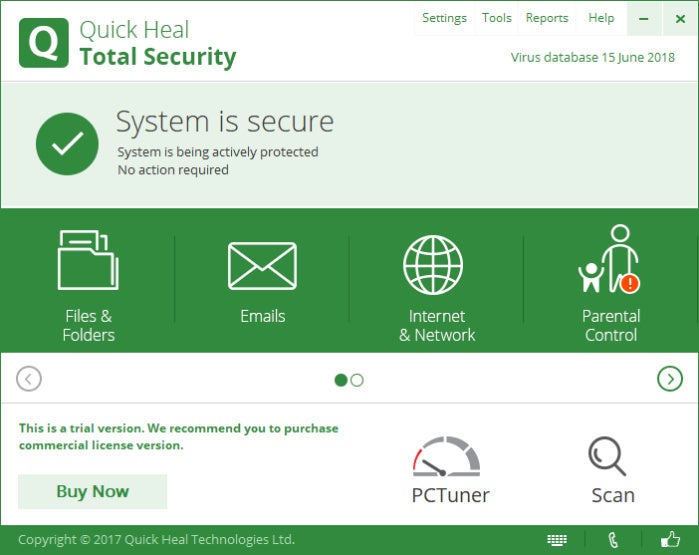 APUS Security is a free antivirus which can be downloaded for free on Google Play store. While the application doesn't offer anything new to the table, it can at least do its job by protecting your phone from viruses. One of APUS Security's feature is its in-built CPU cooler and phone booster for low-end mobiles which suffer from unusual lag and slowdowns, as well as, stuttering and crashing every now and then. In addition, one of its features is its ability to lock application in case if you don't want anyone looking through your SMS messages. Last not least, this application scans your files to make sure you're not affected by anything. Lastly, what can I say, this app may be generic, but it does its job in the end, and that what matters after all.
Quick Heal
Quick Heal is a bit obscure if you ask me as not many Android users have heard, but lucky for you we are here. The application is free to download from Google Play Store and offers the same features that you will find in any other antivirus. However, it has one single feature which I didn't find in the other application above, and that is "Scan Before Download". This feature basically scans anything before you download it, and it does the same after you try to install something. In addition, Quick Heal can block unwanted calls from unwanted strangers, as well as, a battery saver which will help you save some energy on your phone. There are other features to check on the app, but I'll leave it to you!
ESET Mobile Security & Antivirus
Coming next in the list is ESET Mobile Security & Antivirus. It is regarded as one of the best antivirus applications behind Malwarebytes, Avira, and Bitdefender. The aforementioned offers other generous free features such as :
Scan devices for viruses and other malware.
Locate devices via GPS.
Safely browse the web.
However, what makes ESET Mobile Security & Antivirus stand out from the horde is its "phishing protection". Every single day, fake phishing websites trick thousands of people into giving up their passwords, personal information, and credit card details. ESET's job is to protect you from these sites by blocking their access to your privacy and your phone. As a result, you'll be fine from all harm. There's a premium version for the application too, but I think the standard version is more than enough to cover your needs.
Bitdefender (Free Android version)
Finishing our list with Bitdefender . One does not simply, search for the best anti-virus tools and not stumble across one single site that doesn't recommend this one. The latter is regarded as one of the best antivirus programs that will aid you to counterattack malicious threats like Ransomware. However, what Bitdefender stands out from other programs is its optional VPN option that can protect your privacy. Bitdefender is nothing like Malwarebytes as it offers a handful of versions to download from, including Free, Premium, and other advanced options. Luckily, the free version is more than enough to cover your needs and it works on Android phones starting from version 5.0. The only issue with Bitdefender is that it is resource-intensive. That is why your Android has to be either mid-tier or high-end to work efficiently without issues.